THIS SITE IS IN NO WAY AFFILIATED WITH PSYGNOSIS OR SONY COMPUTER ENTERTAINMENT.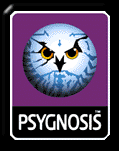 New WipeOut XL (2097) info now online!


S I G H T I N G S - You need previews.


R E L E A S E S - It's what's out, baby.


S U P P O R T- Online support.


E - C L I P S - Videos, demos, and more!

Win FREE STUFF by playing
S P O T - T H E - B A L L !

Destruction Derby - Smash It Up Real Good Game
Back by popular demand!


Contents of this site are © 1996 Psygnosis




This site last updated on October 8, 1996 by Psygnosis